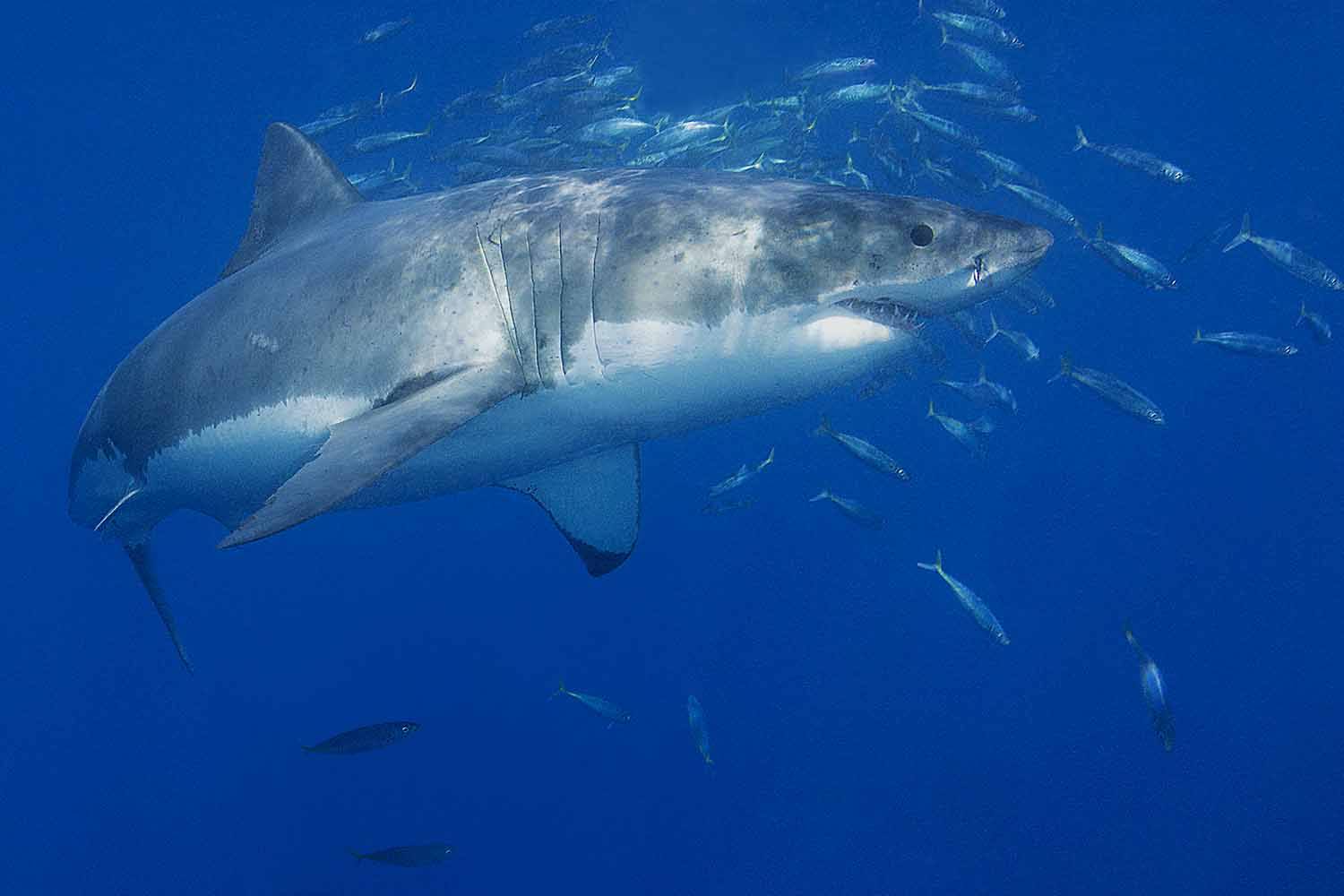 The sun has just arisen behind us to the east, lighting up the steep, reddish cliffs of Isla Guadalupe, which rise up out of a flat-calm, crystalline-clear sea, its surface splattered in the orange and red Monet-pastels of early morning's light. We are anchored just off the island's long, leeward shoreline, the prevailing winds and swell fully-blocked for as far as we can see in either direction. Located 150 nautical miles off the coast of Mexico's Baja Peninsula, we are experiencing an utterly calm, pristine scene, with an other-worldly sense of peace, of unimaginable tranquility.
The only movements detectible are of a few soaring gulls above and several, lolling elephant seals on the rocky beach just a couple hundred yards away. Then, a member of the crew tosses out a line with a head-sized, chunk of frozen tuna tied to its end…and the world changes.
Within moments, huge shapes are moving, deep, down below us, and suddenly, our pastel-painted ocean's surface is sliced open from underneath by the nearly four-foot tall, upper lobe of a Great White's huge tail, the massive shark itself at least 15 feet-long.
Adrenalin replaces any need for a morning coffee, and we are quickly into Nautilus Belle Amie's cages, three at the surface, two lowered down to about 20 feet. Both have their unique charms; the submerged cages with a deep, ethereal quiet, the visibility of 125 feet or more in every direction.
And, when a massive shark suddenly appears out of the blue – it's remarkable, and almost always an utter surprise – how such a huge animal can in a split-second moment be there, in front of you, no matter how intensely you have been searching back and forth, just hoping for that first sighting.
On this day, however, I'm after action-images, which is what you get when shark-wrangling is going on…a crew-member on a raised platform at each corner of the stern tosses out a buoy-floated chunk of tuna and slowly reels it in, toward the surface cages.
The sharks then exhibit feeding behavior like you see in the movies (or "Jaws" dreams, if you are so-inclined)…they tend to circle under the bait gazing upwards, sometimes nosing it briefly. Then, they disappear downwards, their dark backs utterly and perfectly camouflaged in the deep water below, only to suddenly be in front of you, streaking upwards like a huge, silent, Polaris missile, unimaginably-fast, striking the bait, tearing it off the twine-rope, even coming out of the water at times.
When this happens just a few feet in front of you, with the huge head and body of the shark passing closely enough to see every detail in that mind's-eye, slow-motion our brains are so capable of recording, there is an unconscious, primal understanding of just what a Great White's prey didn't realize in that last, crucial moment. And, if you were quick enough, your camera also might have been able to capture an amazing image…
Fortunately, there was so much action throughout the trip that even those high-speed moments were possible to catch. My favorite images were from a number of instances when a shark hit the bait in a high-speed, surface run toward my cage…in one, I can clearly recall the bubbles streaming off the shark's head and back, just before it crashed head-long into my cage, knocking me off my feet, flooding my mask (as I laughed, without even an attempt at control).
On another, the shark took the bait just a few yards out from the cage and turned across my field of view, allowing a crisp, fully-strobe lit image, the bait still in the shark's mouth. A deep, crimson tear was clearly-visible in the shark's side, and what appear to be claw-marks raking the skin above and below the wound – perhaps the tearing bite from an elephant seal's large canine teeth, as it struggled to escape.
For our five days on-site, I managed at least 6 hours a day in the cages…shooting many, many images, always keyed-up, always looking for the next one. My buddies on the trip were equally motivated, acting as spotters for me at times, although fortunately, apparently either a bit more warmly-dressed or reasonable in their water-hours. On one very long day, having gone non-stop from early morning until late afternoon, as I climbed wearily up from the cage, a smile plastered from ear to ear, one of them said: "Al, do you know that your lips are completely blue?"
Still grinning, a shivery "Yeah, p-p-probably so…" was all I could manage ☺
The Sharks Meet the Sharks
My erstwhile buddies on this trip were Mark Hruska, Dirk Smits and Scott Black, good friends regarded as being among the most highly-respected defense attorneys in the dive industry. Active divers on their first Great White experience, they, too, spent many hours in the cages, mesmerized by the incredible experience of being up-close with those majestic creatures. And, given the speed and suddenness at which many of the encounters occurred – it still is remarkable to me the utter stealth these huge sharks exhibit – their willingness throughout to serve as spotters gave me many images I would have otherwise missed.
And, it's also funny at how many of the sharks seemed to come even closer whenever the attorneys were in the cages…some on the trip surmised it must have been the sharks exhibiting simple, professional courtesy…could that have been it?
All in all, it was a fantastic trip, great images and experiences had by all…but, which reminds me – I never did get around to deciding which one of these buddies ultimately became my favorite shark-diving "chum." (Oh well, there will always be the next time.)
Al's 2019 Great White project was supported by Nautilus Dive Adventures and Scuba Diver Magazine. Many thanks!
Isla Guadalupe Gallery
All images © Al Hornsby 2019